Addio al compositore Manuel De Sica, autore di oltre 70 colonne sonore e nomination per l'Oscar
Estorsione a Lapo Elkann per 'video compromettente', dopo la denuncia scatta un arresto

Grammy Awards 2015, incetta di candidature per Beyoncé, Sam Smith e Pharrell Williams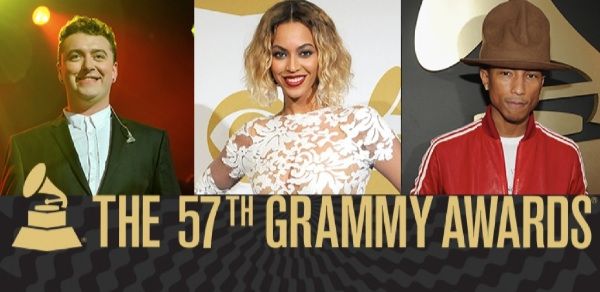 Sono state rese note le candidature dei premi della 57esima edizione dei Grammy Awards, che verranno consegnati nel corso di una cerimonia che si svolgerà l´8 febbraio 2015 allo Staples Center di Los Angeles.

A ricevere il maggior numero di candidature sono Beyoncé, Sam Smith e Pharrell Williams, che ne ricevono sei ciascuno, mentre Iggy Azalea, Beck, Eric Church, l´ingegnere del suono Tom Coyne, Drake, Gordon Goodwin, Jay Z, Miranda Lambert, Sia, Usher, e Jack White ricevono ciascuno quattro nomination.

"I Candidati di quest´anno sono un riflesso della diversità della comunità musicale e della gamma di talento che la attraversa" ha dichiarato Neil Portnow Presidente della Recording Academy, organizzatrice dei Grammy "Siamo lieti di celebrare questo gruppo di talentuosi artisti, nominato a ricevere il più grande onore della musica per il loro contributo nei rispettivi generi."

Di seguito le candidature nelle principali categorie:

Album Of The Year:
Morning Phase — Beck
Beyoncé — Beyoncé
X — Ed Sheeran
In The Lonely Hour — Sam Smith
Girl — Pharrell Williams

Record Of The Year:
"Fancy" — Iggy Azalea Featuring Charli XCX
"Chandelier" — Sia
"Stay With Me" (Darkchild Version) — Sam Smith
"Shake It Off" — Taylor Swift
"All About That Bass" — Meghan Trainor

Song Of The Year:
"All About That Bass" — Kevin Kadish & Meghan Trainor, songwriters (Meghan Trainor)
"Chandelier" — Sia Furler & Jesse Shatkin, songwriters (Sia)
"Shake It Off" — Max Martin, Shellback & Taylor Swift, songwriters (Taylor Swift)
"Stay With Me" (Darkchild Version) — James Napier, William Phillips & Sam Smith, songwriters (Sam Smith)
"Take Me To Church" — Andrew Hozier-Byrne, songwriter (Hozier)

Best New Artist:
Iggy Azalea
Bastille
Brandy Clark
Haim
Sam Smith

For Best Pop Duo/Group Performance, the nominees are "Fancy" by Iggy Azalea Featuring Charli XCX; "A Sky Full Of Stars" by Coldplay; "Say Something" by A Great Big World With Christina Aguilera; "Bang Bang" by Jessie J, Ariana Grande & Nicki Minaj; and "Dark Horse" by Katy Perry Featuring Juicy J.

The nominees for Best Dance Recording are "Never Say Never" by Basement Jaxx; "Rather Be" by Clean Bandit Featuring Jess Glynne; "F For You" by Disclosure Featuring Mary J. Blige; "I Got U" by Duke Dumont Featuring Jax Jones; and "Faded" by Zhu.

The Best Rock Performance nominees are "Gimme Something Good" by Ryan Adams; "Do I Wanna Know?" by Arctic Monkeys; "Blue Moon" by Beck; "Fever" by the Black Keys; and "Lazaretto" by Jack White.

For Best Alternative Music Album, the nominees are This Is All Yours by Alt-J; Reflektor by Arcade Fire; Melophobia by Cage The Elephant; St. Vincent by St. Vincent; and Lazaretto by Jack White.

The nominees for Best Rap Performance are "3005" by Childish Gambino; "0 To 100/The Catch Up" by Drake; "Rap God" by Eminem; "I" by Kendrick Lamar; and "All I Need Is You" by Lecrae.

For Best Rap Album, the nominees are The New Classic by Iggy Azalea; Because The Internet by Childish Gambino; Nobody´s Smiling by Common; The Marshall Mathers LP2 by Eminem; Oxymoron by Schoolboy Q; and Blacc Hollywood by Wiz Khalifa.

The Best Urban Contemporary Album nominees are Sail Out by Jhené Aiko; Beyoncé by Beyoncé; X by Chris Brown; Mali Is…by Mali Music; and Girl by Pharrell Williams.

The nominees for Best Country Duo/Group Performance are "Gentle On My Mind" by the Band Perry; "Somethin´ Bad" by Miranda Lambert With Carrie Underwood; "Day Drinking" by Little Big Town; "Meanwhile Back At Mama´s" by Tim McGraw Featuring Faith Hill; and "Raise ´Em Up" by Keith Urban Featuring Eric Church.

The Best Country Album nominees are Riser by Dierks Bentley; The Outsiders by Eric Church; 12 Stories by Brandy Clark; Platinum by Miranda Lambert; and The Way I´m Livin´ by Lee Ann Womack.

This year´s Producer Of The Year, Non-Classical nominations go to Paul Epworth, John Hill, Jay Joyce, Greg Kurstin, and Max Martin.

L´elenco completo delle candidature, sul sito ufficiale dei Grammy Awards a questo indirizzo.